KEYS Instrument
The KEYS Instrument is a 78-item instrument designed to assess perceived stimulants and obstacles to creativity in organizational work environments.
Evidence-Based Assessment Rating Profile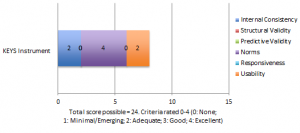 Relevant Literature:
Amabile, T. M., Conti, R., Coon, H., Lazenby, J., & Herron, M. (1996). ASSESSING THE WORK ENVIRONMENT FOR CREATIVITY. Academy of Management Journal, 39(5), 1154–1184. doi:10.2307/256995
Bommer, M., & Jalajas, D. (2003). The Innovation Work Environment of High-tech SMEs in the USA and Canada (SSRN Scholarly Paper No. ID 342815). Rochester, NY: Social Science Research Network. Retrieved from http://papers.ssrn.com/abstract=342815
Chini, B. (2011). Developing organizational creativity: researching contextual factors that enhance or restrict the output of creative potential. Retrieved from http://dspace.ou.nl/handle/1820/3555
Ensor, J., Pirrie, A., & Band, C. (2006). Creativity work environment: do UK advertising agencies have one? European Journal of Innovation Management, 9(3), 258–268. doi:10.1108/14601060610678130
Mikdashi, T. (1999). Constitutive meaning and aspects of work environment affecting creativity in Lebanon. Participation and Empowerment: An International Journal, 7(3), 47–55. doi:10.1108/14634449910277793
Miller, A. M. (2005). FUN IN THE WORKPLACE: TOWARD AN ENVIRONMENT-BEHAVIOR FRAMEWORK RELATING OFFICE DESIGN, EMPLOYEE CREATIVITY, AND JOB SATISFACTION. Univeristy of Florida.
Pharaon, A. A.-K. (2010). Building an innovation culture: a case of pharmaceutical industry in Jordan (Thesis). © Abeer Abdul-Karim Pharaon. Retrieved from https://dspace.lboro.ac.uk/dspace-jspui/handle/2134/7100
T. M. Amabile, R. C. (1999). Changes in the work environment for creativity during downsizing
Wang, S.-C. K., Chen, C.-W., & Chern, J.-Y. (n.d.). Differences in Creativity Performance and Environment Support between Education and Art students. National Chiayi University.