Individuals' shared perception of the importance of the implementation within the organization.
IC: Relative Priority
To see the head-to-head comparisons of the evidence-based assessment rating profiles for the instruments listed below, please click here.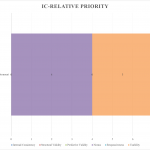 Steckler, Goodman, McLeroy, Davis, and Koch (1991)
The Awareness-Concern Instrument is a 13-item attitude measure of awareness and concern among teachers and administrators about tobacco use among students.
Disclaimer: Some instrument descriptions were taken directly from articles contained in specific instrument pages.