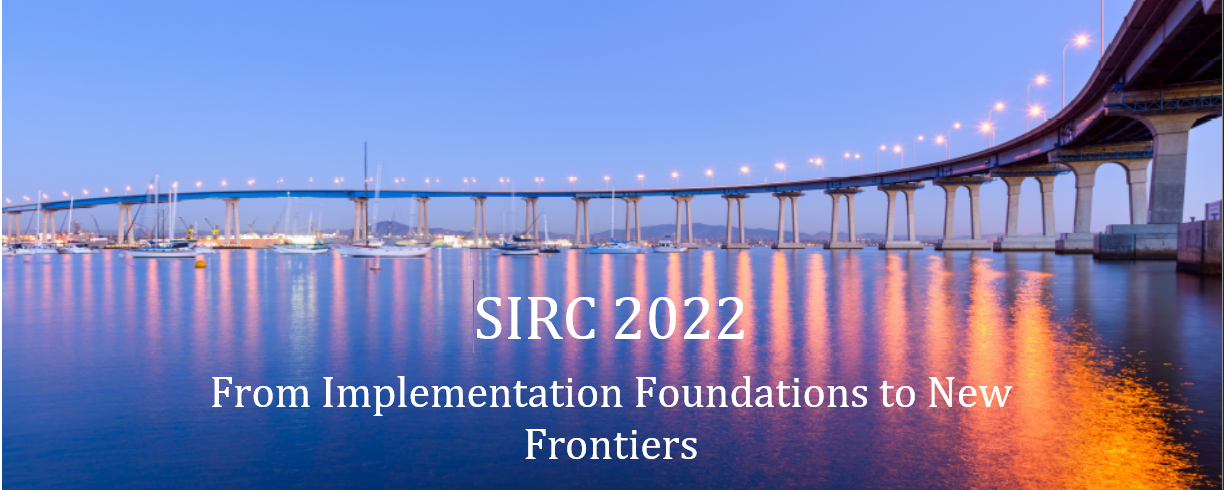 September 8 – 10, 2022
Coronado Marriott, San Diego, California
Join us at SIRC 2022 for in-person collaboration, inspiration, and shared learning about cutting-edge advancements in implementation research and real-world application of implementation practice. This conference marks an important point in time to consider synergies in implementation science and practice in order to lead, support and transform opportunities to accelerate evidence into practice domestically and internationally. The SIRC 2022 theme is designed to ground us in the evidence base and realities of multisector systems to propel implementation research and practice to achieve more equitable, generalizable, and global impact. Our future frontiers to innovate and expand the reach of evidence to practice will be founded on our 10-year history as an organization and the much longer legacy of implementation research and practice.
The SIRC 2022 program will feature presentations that highlight community-engaged partnerships, evidence-based implementation practice, rigorous methods and innovations in capacity building and infrastructure development, dissemination and implementation strategies, designs, approaches to pragmatic measurement, and theories and frameworks. SIRC 2022 will also feature collaborative approaches to promote more equitable, widespread, sustainable access to evidence-based interventions across diverse settings. Implementation research and practice is a dynamic field with many ongoing developments and expansive applications to different contexts, disease areas, public health issues, and human service sectors locally and globally. Thus, SIRC 2022 welcomes presentations from all settings and contexts in which implementation science and research to practice collaborations and partnerships can be used to close the evidence to practice gap. CEUs will be offered. We cannot wait to gather with you and celebrate all we have and will accomplish as a community of research, practice, policy, and community stakeholders!
Key dates:
Early bird registration rates end July 31. Learn more about registration pricing and how to register here.
San Diego:
Getting excited about visiting San Diego? So are we! Check out SIRC's San Diego tourism and events page here.
Make your hotel reservations at the Coronado Marriott Hotel now (by calling 619-435-3000 or online here), use event name SIRC 2022.
Health and Safety:
SIRC is committed to an in-person format based on stakeholder feedback from our leadership, program committee and membership. We anticipate approximately 500 attendees at SIRC 2022. SIRC continues to closely monitor health and safety precautions related to COVID-19, including CDC guidance, current research evidence, and state of California guidelines. At this time, we anticipate required indoor masking and proof of vaccination for all attendees. However, the situation is evolving and we will provide critical updates to all attendees and presenters through our email listserv and social media platforms. The SIRC 2022 conference intends to comply with all state and local health and safety requirements/protocols and CDC recommendations determined appropriate at the time.
For the most updated COVID-19 related information in San Diego, including what's open, meetings and events regulations, and details of international travel, please visit this website.